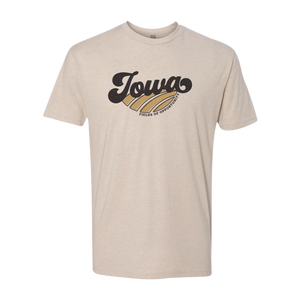 DESIGN: Iowa - Fields of Opportunity 
COLOR: Cream tri-blend crewneck shirt with black + gold distressed lettering
This retro-inspired tee is screen printed using a unique distressing technique that creates a lived-in vintage look. No two tees are exactly alike. 
SIZING: This is a unisex shirt. We recommend sizing down if you prefer a more fitted look.
We recommend washing inside-out to preserve graphic quality