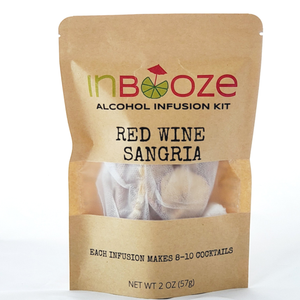 Sangria Red Wine Infusion Cocktail Kit By InBooze.
Looking for a new kind of cocktail? Each handmade inBooze packet contains one pouch filled with dehydrated fruits, veggies, spices, and herbs to infuse your alcohol.
The kit infuses enough for 8-10 cocktails there is a flavor for everyone. The sangria infusions are a little different than the regular alcohol ones.
Instead of 2 cups of booze, you add up to 2 bottles of wine for these infusions. Add the packet to a large pitcher and pour wine over. You can allow it to infuse in the refrigerator or on the counter.
With the red wine sangria, we suggest a red blend, pinot, or whatever you normally buy. For an extra kick, try adding some brandy or flavored vodka.
Red sangria pairs well with blackberry brandy and spiced white sangria are fab with brandy or peach vodka.
To serve, fill a glass up with sangria and top with a lemon-lime soft drink or flavored sparkling water.