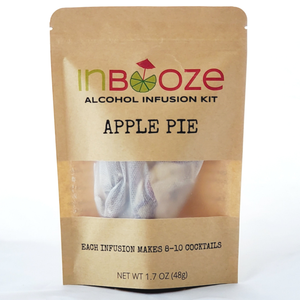 Apple Pie Cocktail Kit to Infuse Vodka, Whiskey or Rum By InBooze.
Looking for a new kind of cocktail? Each handmade inBooze packet contains one pouch filled with dehydrated fruits, veggies, spices, and herbs to infuse your alcohol. The kit infuses enough for 8-10 cocktails, there is a flavor for everyone.
This smells like apple pie in a glass! Dehydrated apples, lemon, cinnamon, and ginger add an amazing flavor to your vodka, rum, or whiskey. Perfect for an apple pie punch or just to sip as a cocktail.
Place the infusion bag in a container, try a mason jar, and fill with your favorite alcohol. Cover and allow to infuse for at least 3 days. Remove the infusion pouch and your alcohol is ready to enjoy. To make your cocktail, pour the desired amount of infused alcohol into a glass. Top with ginger ale, lemon-lime soft drink, or apple-flavored sparkling water.