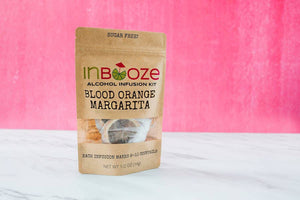 Blood Orange Margarita Cocktail Kit to Infuse Tequila by InBooze.
Looking for a new kind of cocktail? Each handmade InBooze™ packet contains one pouch filled with dehydrated fruits, veggies, spices and herbs to infuse your alcohol. The kit infuses enough for 8-10 cocktails...there is a flavor for everyone!
Have you fallen in love with our SUGAR FREE Margarita kits yet?
This Blood Orange infusion has a great combination of sweet and a little tartness from the grapefruit. This is perfect for sipping in the sunshine...or dreaming of sunshine if you're in the Midwest like us!
1 large infusion packet containing these ingredients: dehydrated grapefruit, dehydrated blood orange and dehydrated lime. Place the infusion bag in a container, try a mason jar, and fill with your favorite alcohol. Cover and allow to infuse for at least 3 days. Remove the infusion pouch and your alcohol is ready to enjoy!
You have 6 months to enjoy after infusion and unopened kits are good for 2 years.