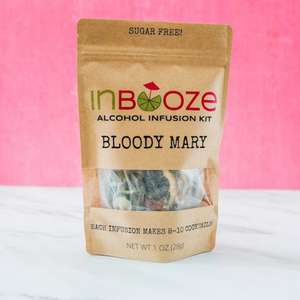 Looking for a new kind of cocktail?
Each handmade inbooze packet contains one pouch filled with dehydrated fruits, veggies, spices, and herbs to infuse your alcohol. The kit infuses enough for 8-10 cocktails, there is a flavor for everyone.
Brunch will never be the same after you try the inbooze bloody mary infusion! A little kick of heat from jalapeno and Arbol peppers, but some coolness from cucumbers and pickles. This is great to have on hand for any Sunday Funday.
Infuse vodka or tequila with this packet. Place the infusion bag in a container, try a mason jar, and fill with your favorite alcohol. Cover and allow to infuse for at least 3 days. Remove the infusion pouch and your alcohol is ready to enjoy!
To make an epic bloody mary, pour the desired amount of infused vodka or tequila in a glass. Top with tomato juice, pickle juice, Worcestershire, and celery salt. For a fun, bloody bar idea put all of the toppers out and let people create their own.