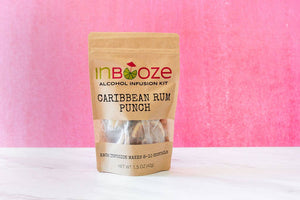 What we wouldn't give to be on a sandy beach in the sun about now, right?!
This drink needs to be enjoyed in the sunshine, no matter where you are! This is like vacation in a cup, with hints of citrus, pineapple and cherries. Picture a Mai Tai flavor, with MUCH less sugar!
Place the infusion bag in a container, try a mason jar, and fill with your favorite alcohol. We suggest any variety of rum: white, dark or even spiced! Cover and allow to infuse for at least 3 days. Remove the infusion pouch and your alcohol is ready to enjoy!
To make your cocktail, pair 1.5-2 ounces of infused booze with lemon lime soft drink, Fresca or pineapple sparkling water . Garnish with an orange twist, pineapple wedge or some of the infused fruit!