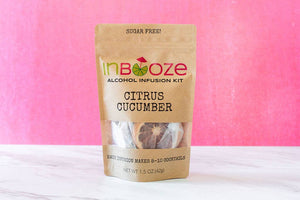 This is one refreshing alcohol infusion!
The InBooze® Citrus Cucumber infusion is great for vodka or gin...even rum. This drink is light and cooling for those hot summer nights.
Place the infusion bag in a container, try a mason jar, and fill with your favorite alcohol. Cover and allow to infuse for at least 3 days. Remove the infusion pouch and your alcohol is ready to enjoy! To make your cocktail, pair 1.5-2 ounces of infused booze with soda water or tonic...or have fun with it! Try some fresh mint or even smashed berries. InBooze your own adventure!