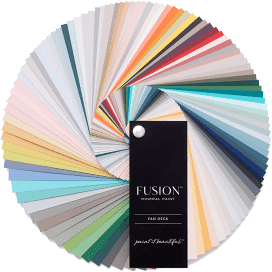 The new Fusion 2″x5″ True Color Fan Deck includes large swatches of all 60 Fusion and Metallic Paint colors (current and limited releases), as well as color descriptions and color pairings on the back for each Fusion color offered to spark your DIY creativity!
If you don't see the exact color you are looking for, there are also 54 custom colors plus their recipes included! There are two types of recipes that are super easy to follow:
Mix 1 Fusion Tester into 1 Fusion Pint, or

50/50 Mix ratio.
Accurately depicting 114 colors, this handy Fan Deck is the perfect color choosing tool, especially when picking fabrics, comparing  shades, finding matches to existing projects or furniture, etc. You'll are able to add new color cards to this incredible Fan Deck as they become available!
This is the perfect companion for the Fusion furniture flipper!  If you're not going to be painting often, then you may want to look at the new Fusion Mineral Paint Color Card, which includes True to Color representations of all 60 Fusion Mineral Paint Colors.
For more inspiration, visit fusionmineralpaint.com