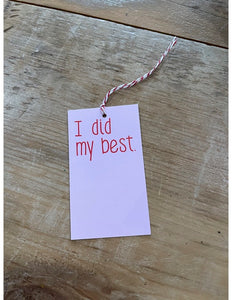 These funny tags will spiff up any package in no time at al! We love keeping a stash of gift tags handy so we look like we actually have our act together, when we really bought the gift on the way to the party. Shhh! It's our little secret. ;) They're great on gifts of any sort, but they also have lots of other uses. They make darling little lunch box notes, or bookmarks.
Size: 2" x 3.5".
Set of 12 gift tags.
Hole punched at top.
Twine included.

Made in United States of America