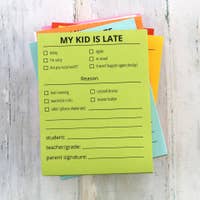 Late days happen. Lame excuses are optional. These funny notepads are perfect for sending with your kids when you have one of those mornings. You know...your son can't find his shoe, your daughter's glasses are missing. They make great gifts for friends and fellow-parents. Teachers the office staff at school are bound to get a kick out of these funny late note.
Size: A2 (4.25" x 5.5").
50 Sheets. Handmade.

Made in United States of America