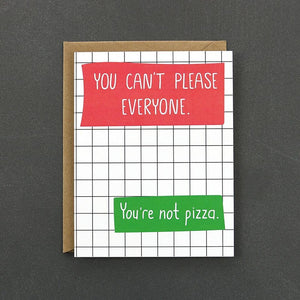 My parents always said, "you can't please everyone." And now I know why. It's because I'm not pizza. Duh! This card is great for your fellow pizza-loving friend, or for your people-pleasing co-worker who needs a pep talk. Or a lot of other folks in your life who could use a smile.
Size A2 (4.25" x 5.5").
Blank Inside. Includes one brown kraft envelope.
Designed & Printed in the USA.