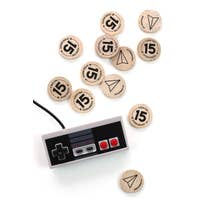 Use these screen time tokens as a "digital allowance" or as a reward system, to find what works best for your family. With this tangible way to "earn" and "spend" screen time, kids gain a better understanding of amount of time they spend on digital devices.
12 Tokens per set (3 hours).
Screen Printed Wooden Coin.
Each token is approx 1.5" diameter. Made in the USA.
Please Note: Due to the nature of the printing process, slight abnormalities, or alignment fluctuations may be present.