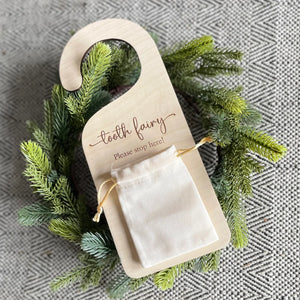 How adorable is this tooth fairy door hanger?! No need to worry about sneaking in and slipping it under the pillow, just have your child hang it on their door when they head to bed! An easy reminder for parents + a fun surprise for the child in the morning! The attached velvet cinch bag includes enough room for bills, coins or any small item!
Velvet Bag = 2.8" x 3.6''
Overall hanger = 9.75" x 4"